Official Software Features
Login and Manage from mobile Device
No Long Term Commitments
Free Templates for easy design
Built in CAN-SPAM Compliant
No Technical Skills Needed
Lowest Cost for Email Broadcasting
HTML Message Editor
Mail Merge Personalization
Message Scheduling
Large Volume List Management
Segmentation & Suppression Lists
Large Volume Email List Delivery
Full Stats Tracking and Reporting. View Delivered, Opened, Clicked, Opted Out
Automatically Collects and Removes Opt Outs and Bounce Backs
IP/Domain Rotation
Email Message design & creation tools including Free Templates
Spam content checking system
View message as a web page option
Image hosting option - unlimited images
Powerful list management tools
List builder contact form with autoresponder
List segmentation to send to portion of list
Suppression list support
Built-in suppression database
Unlimited number of list columns supported
No limits on the number of lists per account
Personalization option in message body & subject line
Campaign scheduling
Open & Click thru tracking
Goggle Analytics tracking option
Campaign creation for multiple lists
Set Recurring campaigns
Email reply forwarding
Two types of unsubscribe options - image and text based
Dedicated IP address per account
Dedicated domain name per account
Blacklist monitoring system - monitors IP's/domains/list quality
Integrated suppression database
Full customer software support 24/7
Nothing compares to the deliverability of Official

Dedicated support staff to answer any software support questions 24/7
Web-based Email Marketing Software
Official Email Marketing Software - Upload unlimited lists and create powerful mailings
Upload your own email lists, or purchased email lists into the advanced Official Email Marketing software dashboard. OfficialEmailMarketing Software is a high volume professional email marketing platform that's fully supported. Send individual mailings monthly or even daily newsletters type mailings.
With the Official software there is nothing to download or install - simply log into your web-based email marketing software account from anywhere and create high impact personalized email messages. Manage and upload an unlimited amount of email lists for sending. Monitor detailed campaign statistic, charts, click through rates, open rates, and more. A dedicated technical support staff is available 24/7 to answer any questions and provide ongoing ticket support for your software management needs. There is no better way to send large amounts of email successfully and grow your small business.
Key Software Features;
No Contracts or commitments
Cancel Account Anytime
Upgrade or Downgrade Anytime
Fully Supported Technical Staff
Web-based Email Software Mobile Friendly
Create Unlimited Campaigns / Clients Campaigns
Easy to Create and Send Different Offers
Easy to Manage Inbox to Follow up with Leads
Full Statistics and Reporting with Google Analytics
Rotate IPs and Domains for Excellent Delivery
Can-spam compliant email marketing software
Includes an email list for use with your software
Get started using the registration form below;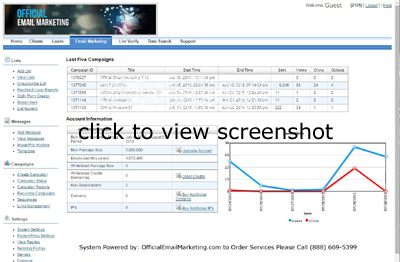 Email Marketing Software Pricing
Free Email List with Setup!
For a limited time receive a
free targeted consumer email data list of 50,000 records
each month with renewal, for any category you choose! This offer is free upon registering, details below. (
View categories
)
Unique sending domain URL and IP address provided with setup, everything you need to begin sending your email campaigns included! Additional IP's and domains can be purchased at any time during your campaigns and will be switched out automatically if needed at no extra charge. The software can rotate your IP's and domains during the sending process for excellent delivery.
Package Size

Setup

Per Month

Send up to 100,000 Emails
$25.00

$199.95


Send up to 500,000 Emails

$25.00

$399.95

Send up to 1,000,000 Emails

$25.00

$499.95

Send up to 5,000,000 Emails

$25.00

$649.95

Send up to 10,000,000 Emails

$25.00

$799.95
Email Marketing Software Account Setup
Accounts are setup within 24 hours of processing payment. Your client software login details will be emailed to you once the setup process has been completed. Software is web-based and we fully setup for you ready for sending. Account will include sending domain(s), and Ip(s) so you have everything needed to send email marketing campaigns that get results and inbox delivery.
Official Email Marketing Software Registration
Do you have Questions? Toll-Free Sales Support 1-888-669-5399